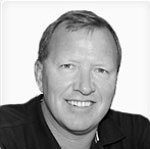 Greg Brady
CEO, Head of Research and Development, One Network Enterprises
Supply Chain and Technology Visionary
Greg Brady founded One Network Enterprises in 2002. Before that, he led i2 Technologies to high growth and market leadership for seven years, both as CEO and head of worldwide operations. Previously, Brady was vice president of worldwide applications marketing for Oracle and held positions at J.D. Edwards and at McCormack and Dodge.

Greg Brady wrote this post:
Take the Coordination Quiz: How (In)Efficient is Your Supply Chain?
Why aren't more companies demand-driven? I had an eye opening discussion with the SVP of supply chain at a multi-billion dollar company the other day, and together we tallied up the number of systems under his watch. In less than 5 minutes we came up with over 20! I thought it would be an interesting exercise to turn our discussion into a "Coordination Quiz".
Load more posts