Top 10 Distribution Software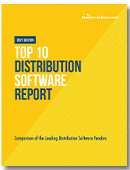 We've just made it a lot easier for you to find the best distribution software. Our Top 10 Distribution Software Vendor Report reveals:
The Top 10 Distribution software providers you should consider.
Highlights of each software vendor's strengths.
Published vendor pricing and product details.
Vendor background and contact information to get you started.
How the right distribution solution will manage everything from warehouse, inventory to CRM and accounting.
Distribution software solutions are powerful technology applications that enhance all aspects of the entire transportation and delivery chain. Offered as an integrated component of many enterprise resource planning (ERP) suites or as a stand-alone application, distribution software provides full support for functions such as sourcing, routing, order processing, warehouse management, inventory monitoring, and delivery tracking.
Please register below for immediate access to this report.