Top 10 Document Management Software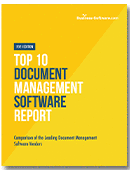 We've just made it a lot easier for you to find the best document management software. Our Top 10 Document Management Vendor Report reveals:
The top 10 document management software vendors you should consider.
Highlights of each vendor's strengths in document management.
Vendor background and contact information to get you started.
How the right document management software will benefit your business.
Document management controls the life cycle of documents in your organization—how they're developed, reviewed, distributed, and consumed. A document management software system will help you avoid the problems of unstructured and unregulated data, while offering greater control over document access and facilitating better collaboration.
Please register below for immediate access to this report.