Top 10 Email Security Software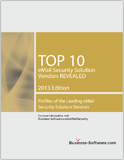 We've just made it a lot easier for you to find the best email security software. Our Top 10 Email Security Vendor Report reveals:
The top 10 email security software vendors you should consider.
Highlights of each vendor's strengths in email security.
Vendor background and contact information to get you started.
How email security software will benefit your business.
Over the past two decades, email has emerged as one of the most affordable and efficient ways to facilitate business communications. However, email systems can be a breeding ground for technical disaster. Viruses, file corruption, incessant spam, and other threats are on the rise and have the potential to cause serious damage to your company's email communications. There is a solution: today's powerful email security software systems are designed to protect your business from Internet threats.
Please register below for immediate access to this report.