Top 10 ePrescription Software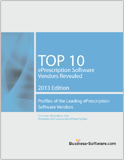 We've just made it a lot easier for you to find the best medical billing software. Our Top 10 ePrescription Software Vendor Report reveals:
The top 10 ePrescription software vendors you should consider.
Highlights of each software vendor's strengths.
Vendor background and contact information to get you started.
The benefits of using an ePrescription solution.
ePrescription software delivers more accurate patient and drug information, reduces mistakes and harmful drug interactions, streamlines office processes and cuts down on paperwork, and gives patients and doctors a direct line to the pharmacy and prescriptions via the Internet.
Please register below for immediate access to this report.