Top 10 Help Desk Software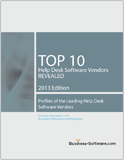 We've just made it a lot easier for you to find the best help desk software. Our Top 10 Help Desk Software Vendor report reveals:
The top 10 help desk software vendors you should consider.
Published vendor pricing.
Highlights of each vendor's strengths.
Vendor background and contact information to get you started.
How the right help desk solution can significantly improve external customer support and/or internal service desk.
Help desk software centralizes, streamlines, and automates the activities associated with issue-handling. With help desk automation, businesses can dramatically improve customer satisfaction, loyalty, and retention by ensuring that every issue is handled as efficiently as possible.
Please register below for immediate access to this report.