Top 10 Learning Management System Software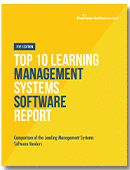 We've just made it a lot easier for you to find the best learning management system software. Our Top 10 ERP Learning Management System Software Vendor Report reveals:
The top 10 learning management system software vendors you should consider.
Highlights of each vendor's strengths in learning management systems.
Vendor background and contact information to get you started.
The benefits of having a learning management system.
Learning management systems software serves multiple purposes, primarily coming into use for administering training programs and delivering online e-learning courses. Such systems range from very simple tools to more sophisticated software that can be used in larger institutional environments.
Please register below for immediate access to this report.