Top 10 Remote Support Software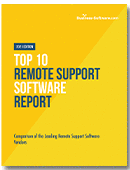 We've just made it a lot easier for you to find the best remote support software. Our Top 10 Remote Support Vendor Report reveals:
The top 10 remote support software vendors you should consider.
Highlights of each vendor's strengths in remote support.
Vendor background and contact information to get you started.
How remote support software can slash support cost and improve customer satisfaction.
Remote support software provides a suite of advanced technology tools that enable the identification and resolution of technical issues with desktop computers, applications, hardware, and other enterprise systems from off-site locations.
IT staff members can dynamically connect to any component in the environment, from anywhere in the world, to perform diagnostics, check the status of monitoring software, initiate re-boots, transfer patches and other files, and much more.
Please register below for immediate access to this report.