Top 10 Small Business CRM Software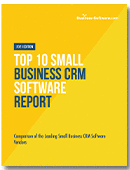 Small Business CRM software provides basic contact management capabilities without all the complex functions that larger organizations require. Many small business customer applications are available as hosted solutions. This approach makes CRM more affordable, allowing smaller businesses with tighter budgets to avoid up-front fees and pay only for the services and features they use.
Our FREE Top 10 Small Business CRM Vendor Report reveals:
The Top 10 Small Business CRM software vendors you should consider.
Published vendor pricing.
Highlights of each vendor's strengths.
Vendor background and contact information to get you started.
Why vendors with tailor-made Small Business CRM solutions may be right for your needs.
We've made it a lot easier for you to find the best Small Business CRM software. Learn what Small Business CRM software can provide and which vendors can deliver what you need. Get a detailed look at the top vendors to help you compare Small Business CRM software.
Please register below for immediate access to this report.