Top 10 Social CRM Software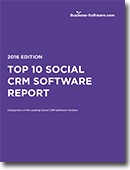 We've just made it a lot easier for you to find the best social CRM software. Our Top 10 Social CRM Vendor report reveals:
The Top 10 Social CRM vendors you should consider.
Published vendor pricing.
Highlights of each vendor's CRM strengths.
Vendor background and contact information to get you started.
Social CRM is the future. Formerly known as "CRM 2.0," Social CRM is customer relationship management that incorporates Web 2.0 components, yielding better interactions with potential customers. From offering users even deeper insight into customer sentiments to boosting brand loyalty, Social CRM software can offer many significant advantages.
Please register below for immediate access to this report.