Top 15 Accounting Software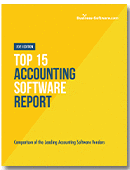 In this report, you'll learn about:
The top 15 Accounting software vendors in the industry.
Side-by-side comparison of each vendor's product features.
Overview of the latest Accounting software trends.
The major benefits of choosing a SaaS solution over traditional on-premise Accounting software.
Download our free Top 15 Accounting software report to learn more about the top Accounting vendors. Our report will help you compare the Top Accounting software solutions to find the right solution for your company.
Download this FREE report today and discover which of the leading Accounting software solution is right for you.