Top 15 Accounting Software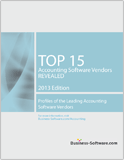 We've just made it a lot easier for you to find the best accounting software. Our Top 15 Accounting Software Vendor Report reveals:
The top 15 Accounting Software providers you should consider.
Highlights of each software vendor's strengths.
Published vendor pricing & product details.
Vendor background and contact information to get you started.
Improve the accuracy of your financial data, enhance compliance, and increase staff productivity.
Accounting software provides a broad range of features and functions that improve all facets of financial planning, management, control, and analysis. With accounting software, businesses can increase productivity, while enhancing financial performance management and strategic financial planning.
Please register below for immediate access to this report.