Nimble Social CRM Review
Product Snapshot
Pricing
Basic Version – Free for One User
Business Version – $15/month/user (free 30-day trial available)
See more pricing details here.
Technology
Nimble's social CRM platform is available as a cloud solution on a subscription basis.
Customer Focus
Well suited to any company that needs to keep track of a large social media presence, as well as sales and marketing leads, Nimble social CRM is nonetheless primarily focused on the small business market at the moment.
Select Customers
Skyline Boston, SociaLink, Viwo Inc.,
Customer Case Studies
About Nimble Social CRM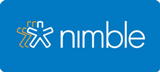 Nimble's social CRM platform aims to unify all the disparate data and communication methods that businesses use to track contacts, leads, calendars, events, and more. As a web-based solution geared specifically towards small businesses, Nimble facilitates collaboration and communication between team members, prospects, clients, and contacts by bringing together your email, activities, social networks, and marketing and sales tools into one solution that's accessible from anywhere.
Easily link the most popular social networks, such as LinkedIn, Facebook and Twitter, importing your contact from these platforms straight into Nimble so that you don't have to go back and forth between applications. Nimble social CRM is a single solution that works to help businesses find those individuals most relevant to their business. Additionally, the unified platform allows users to more easily engage with their contacts through whichever social network or communication method they choose, thus improving relationships and business opportunities.
Read more about Nimble in our Companies to Watch series: Is Nimble CRM Leading the Enterprise 2.0 Revolution?
About Nimble
Launched in 2009, Nimble was founded by Jon Ferrara, who also founded GoldMine Software in the '90s, in order to solve the problem of how to manage so many different forms of communication in an increasingly technological world. Since its launch in April of 2009, Nimble has quickly developed into a highly lauded solution, garnering praise from Forbes, PC World, and VentureBeat, among others. Nimble is located in Santa Monica, California.
Nimble Social CRM Key Features
Contact Management
Access calendars, events, and edit contact profiles in one place.
Full view of your contacts.
Automatically find your contacts' social profiles.
Unified Communications
See all of your social network feeds, as well as email, in one place.
Reply to messages, create tasks, or schedule events using whatever social platform you wish.
View sender information and import them to Nimble easily if they aren't in your contacts already.
Activity Management
Import and sync your calendars across platforms, including Google Calendar and other third party applications.
View all your tasks and events from one screen.
Create and assign tasks to team members, as well as keep track of the progress of all tasks by viewing team members' calendars and To Do lists.
Social Media Monitoring
Manage and view all your social networks and conversations in one place.
Easily search through your social networks for conversations, keywords, and business relevant information.
Quickly import relevant contacts from your social networks into Nimble.
Sales and Marketing
With third party integrations, import leads, measure marketing spend, create campaigns, and see program data from beginning to end.
Highly customizable form fields for leads.
Sales automation tools help you connect team members to deals and tasks, track leads and sales pipeline, and forecast revenue.
Nimble Social CRM Screenshots
Nimble Social CRM Videos
What Others Say About Nimble Social CRM
ZDNet.com – My hour in the Nimble platinum mine with Jon Ferrara
"What makes Nimble different is that it is an all-inclusive workspace. It integrates your email, your CRM, your Sales Deals, your Contacts and your Social Media connections into a single application. Now, you can turn your connections into customers–customers that you'll have for life."
TechCrunch – Nimble 2.0 Looks to Give SMBs a CRM Platform that Actually Does Social Right
"To really nail social, businesses can't just stack social functionality onto legacy CRM platforms, they have to build social into their infrastructure from the ground up. That's what Ferrara has been doing with Nimble, smartly opting against going toe-to-toe with enterprise clouds like Salesforce, and instead targeting the CRM-underserved crowd of SMBs and startups…"
Mashable – Nimble Review
"With Nimble you're able to see all the communication you or any member of your team has had with a particular contact across all social networks. For instance, if you email with a client and your coworker sends them a tweet, you'll see both interactions on that client's profile page…"