NowWeComply Review
Product Snapshot
Product Pricing
Personal Level – Free
Professional Level – £225 /month
Enterprise Level – £825 /month
Technology
Software as a Service (SaaS)
Customer Focus
NowWeComply is an HR tool built for any organization that requires automation, content management, document management and workforce management.
Success Stories
About NowWeComply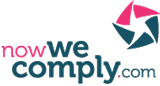 NowWeComply enables companies to automate the compliance admin processes in their business. Whether it's sending out contracts, asking a candidate or employee for information, making sure a sales person has supplied a document, a manager has completed a review or a contractor has had health and safety training, NowWeComply assists organizations in capitalizing on the power and accuracy of automation.
About NowWeComply
Founded in 2011 and now employing an experienced, cross-disciplined team of over 20, NowWeComply Ltd. aims to provide a simple and cost-effective SaaS solution to improve collaboration, stability and value across any organization large or small. NowWeComply believes compliance automation is not only a liberating opportunity for organizations of every kind, it's a way to ensure that human resources staff hit the mark when and where it counts every time. Automation frees up time for HR staff to focus on those things that require a human touch, such as reputation oversight and brand building.
NowWeComply Key Features
Communication
Automates communication as part of a process
Integrates with email
Works with Facebook, Linkedin and Twitter
Drives any communication across multiple channels from any event in your process, including hard-copy, print-and-post
Simple to Use
Easy to use drag-and-drop setup
Clean and intuitive interface
Multi-browser and device support
Comprehensive online help and free email support
Smart Document Production
Powerful document automation. Custom fields, custom templates
Support for multi-stage document creation
Online document signing as standard
Support for offline signing too
Workflow Engine
Handles thousands of simultaneous actions
Easy to use drag-and-drop workflow setup
Sequencer 'maps' even the most complex workflow
Total Control
At-a-glance view of every process in flight
Updates in real-time
Cross-team reporting and task management
Intelligent task prioritization
Ability to save your own layouts
Fast, Reliable and Secure
Established in 2001, ISP in our own right
Multiple datacenters with best-in-class equipment
99.999% 'no quibbles' uptime guarantee
Integration
Use stand-alone or with other systems
Intelligent Importer makes automatic data import simple
Comprehensive API allows 'deep' integration
NowWeComply Screenshots
NowWeComply Videos