Zoho CRM Review
About Zoho CRM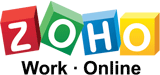 Zoho has launched over 20 web-based applications in less than a decade starting with a powerful, user-friendly and entirely scalable CRM, its flagship offering. Zoho CRM offers extremely competitive price points and considerable customizability—enabling tailor-made solutions that are always the right fit for companies both large and small in nearly any industry. Contact and document management, marketing tools and social features are just a few among hundreds of capabilities that support the core sales force automation modules from lead handling and conversion to follow up and forecasting. Over 40 standard reporting templates help jumpstart the analytics process across multiple modules, while Zoho CRM Dashboard offers a host of 2- and 3-D charts, graphs and other helpful data visualizations to help plan the next big campaign. Integration with Microsoft and Google apps, as well as accounting software like Quickbooks, adds to Zoho's flexibility and commitment to holistic systemization, automation and execution.
About Zoho Corporation
Zoho Corporation is a privately-held company established in 2005. Zoho provides over 50,000 customers with integrated CRM, office suite and other business applications from offices in the San Francisco Bay Area, New Jersey, Austin, Singapore, Chennai, Beijing and Tokyo. Winner of TechCrunch's "Best Enterprise Start-up" 2007 award, PC World's 2008 "25 Most Innovative Products Award", and InfoWorld 2009's "Product of the Year" award, Zoho is a recognized leader in SaaS CRM and office-productivity applications.
Zoho CRM Key Features
Sales Force Automation
Sales Tracking
Comprehensive CRM Features
Marketing
Zoho CRM Screenshots
Zoho CRM Videos