The New GDPR will Demand More from Contract Management Systems. Will You Be Ready?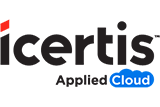 Register Now to Download this FREE Vendor Whitepaper
To ensure compliance, companies must include necessary privacy terms and clauses as defined by the GDPR regulation into their customer or partner agreements. They will also need to manage a new set of obligations related to how data is stored, managed, shared and transferred, especially when such activities are conducted with partners or third parties. The impact on a company's contract management process is significant and will require a close examination of it's capabilities and potential gaps.
Register below for access to this FREE whitepaper from Icertis