5 Must Haves for a Complete Social Support Strategy

Register Now to Download this FREE eBook
5 Must Haves for a Complete Social Support Strategy
Your customers have adopted a more social way of communicating online, and they expect your support department to do so too. The good news is that you don't have to hire an army to deliver exceptional customer support. A good social support strategy allows you to leverage your customers for dynamic, collaborative support that's always available, anywhere your customers are.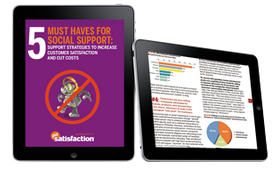 There are some critical components of a complete social support strategy. Download this eBook, 5 Must Haves for Social Support: Support Strategies to Increase Customer Satisfaction and Cut Costs to learn what they are, and how you can implement them!
Fill out the form below to access this FREE eBook.