6 Proven Strategies to Improve Warehouse Operations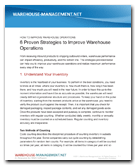 Download FREE White Paper from Warehouse-Management.net
6 Proven Strategies to Improve Warehouse Operations
From receiving inbound products to shipping outbound orders, warehouse performance can impact efficiency, productivity, and the bottom line. Learn how to effectively manage your inventory and processes for optimal performance levels.
The strategies provided in this FREE white paper will help you to improve your warehouse operations and realize maximum performance every step of the way.
Please register below for immediate access to this report.