Navigating ERP: Buyer's Guide for Food and Beverage Manufacturers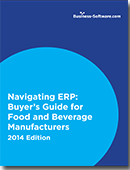 Navigating ERP: Buyer's Guide for Food and Beverage Manufacturers
Food and beverage manufacturers cannot afford to make mistakes; their products must adhere to the highest of quality standards in an environment that continually changes. We've designed this guide to help food and beverage manufacturing companies more easily navigate ERP selection, buying and implementation processes. Use this guide to:
Learn more about the industry-specific features a food and beverage manufacturer needs
Determine which deployment model is best for your business
Compare top food and beverage ERP software vendors

Register below for immediate access to this free report.