Navigating ERP: Buyer's Guide for High-Tech Manufacturers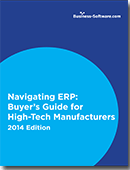 Navigating ERP: Buyer's Guide for High-Tech Manufacturers
For manufacturing vendors within the high-tech and electronics sectors, it can be challenging to find a solution flexible enough to meet rapidly changing environmental regulations yet capable of handling robust tasks. High-tech and electronics manufacturers also require the ability to manage the complete production lifecycle, from the engineering of parts to product management and distribution. We've designed this guide to help high-tech and electronics manufacturing companies more easily navigate ERP selection, buying and implementation processes. Use this guide to:
Learn more about the industry-specific features a high-tech manufacturer needs
Determine which deployment model is best for your business
Compare top high-tech ERP software vendors

Register below for immediate access to this free report.