Icertis – MindTree Case Study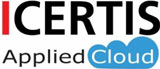 Download FREE White Paper from Icertis
Icertis – MindTree Case Study
Mindtree is a global information technology solutions company with revenues of over USD 400 million. Mindtree's consulting-driven approach makes it a strategic partner to over 40 Fortune 500 enterprises.
This case study looks at how Roche has benefited through working with Icertis Applied Cloud.
Please register below for immediate access to this report.