Icertis – Roche Diagnostic Case Study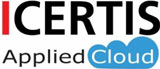 Download FREE White Paper from Icertis
Icertis – Roche Diagnostic Case Study
Roche Diagnostics India was established in January 2002 in India as an outcome of global acquisition of AVL Biomedical, leaders in blood gas and electrolytes testing market. Roche has grown from a small drug laboratory into one of the world's leading research – based Healthcare companies.
This case study looks at how Roche has benefited through working with Icertis Applied Cloud.
Please register below for immediate access to this report.