Navigating CRM: A Business-Software.com Buyer's Companion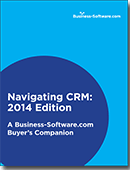 Navigating CRM: 2014 Edition
A company's customers are its lifeblood, and without managing, tracking and monitoring customers throughout their lifecycles, even the best companies will falter. For this reason, a customer relationship management (CRM) solution is one of the most important business software applications a company can utilize. We created this guide to help businesses find the perfect CRM solution. Use this guide to:
Learn more about the different types of CRM software
Determine which features will most benefit your business
Browse tips on implementing your CRM software quickly and smoothly
Compare top CRM software vendors
Access our exclusive CRM buyer's checklist

Register below for immediate access to this report.