Top 10 Application Lifecycle Management Software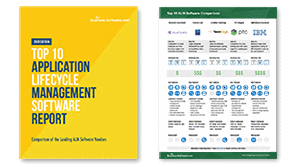 Even with increased access to development tools, creating software is a lengthy, labor-intensive process. To simplify software development, testing and deployment processes, many developers use application lifecycle management (ALM) software to control and monitor software throughout its lifecycle.
When you're ready to begin your search for an ALM solution, use our Top 10 Application Lifecycle Management Vendor Report as a guide to jump-start your efforts. Inside, you'll learn about:
Some of the leading application lifecycle management vendors you should consider
Key features to look for when selecting ALM software
Vendor pricing information and product deployment options
Side-by-side comparisons of product features
With an ALM solution in place, organizations that develop software as a core business function can significantly improve the way they design, build, implement and adapt new applications. As a result, they can better address customer needs, support new internal business initiatives, or achieve other mission-critical goals and objectives.
Download this FREE report to ensure you make an informed decision about your ALM purchase.