Top 15 Business Intelligence Software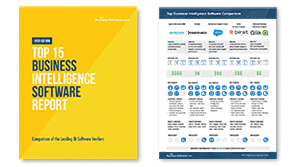 Business intelligence software enables companies to efficiently detect and evaluate structural patterns, anticipate industry trends and offer greater operational visibility.
These solutions are valuable regardless of company size, which makes it all the more important to find the perfect BI tool to facilitate faster, more effective decision support. Check out our Top 15 Business Intelligence Software Report to start your search. In our free downloadable file, you'll find:
Information on why you should invest in a solution with modern capabilities
Side-by-side comparison of the leading products' features
Details on deployment options, pricing and noteworthy functions
Download our FREE report today to begin your search for the BI solution that best suits you.