Top 10 Enterprise Performance Management Software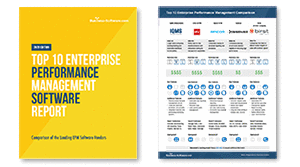 Why performance management software? It's a simple fact that an accurate and appropriate picture of how a business is performing critically affects both the short- and long-term goals of an enterprise. Enterprise performance management software enables organizations to define and execute strategic goals relative to finances, operations, business modeling and key performance indicators.
Designed primarily for enterprise-scale businesses handling complex data sets, enterprise performance management software should be carefully evaluated prior to purchasing to ensure the best fit. Our Top 10 Enterprise Performance Management Software Report can help you make the right decision for your business, with information on:
The leading enterprise performance management vendors you should consider
Each product's core features, displayed side-by-side in our exclusive comparison chart
Important details on pricing, deployment options and more
Register below to access this report and discover which enterprise performance management solution is right for you.