Top 10 Business Tax Software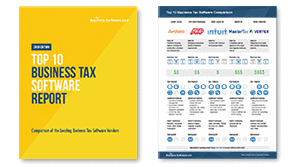 It's a fact that choosing the right tax software solution can save businesses a lot of time and money – small business owners can be easily overwhelmed reviewing deductions and tax forms. Business tax software solutions are designed to be powerful enough for a broad range of tax needs, while still being relatively easy to use.
With so many proven tax applications on the market today, it just makes sense to explore your options before committing to a tax solution. Luckily, our Top 10 Business Tax Software Vendors Report can help.
Inside our report, we uncover:
Popular trends found in today's business tax solutions
The top 10 business tax software vendors you should consider
What core features are available in each of the leading tax solutions
Product price points, available deployment methods and other handy platform functions
Make sure you select the right tax software for your business by first evaluating our recommendations. Register below to download this FREE report.