Top 10 CMMS Software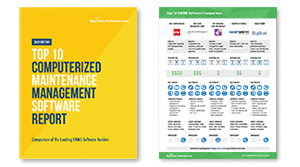 Making informed choices about maintenance management strategies for corporate assets is critical to the success of any company. Businesses that need to maintain assets, equipment and property can implement CMMS (computerized maintenance management software) to optimize their inventory and asset tracking procedures.
It's important to make sure you purchase the right asset management solution for your company's needs. Use this Top 10 CMMS Software Comparison report to verify that a CMMS platform is the best fit for your business. In the report you'll discover valuable information about:
The most important feature set to look for in CMMS software
Strengths and core functions of industry-leading platforms
Which industries and business sizes the top CMMS solutions are designed for
Make the right software decision the first time around. Register below for access to this free comparison of top CMMS vendors, and jump-start your search for a new CMMS solution.