Top 10 Construction Software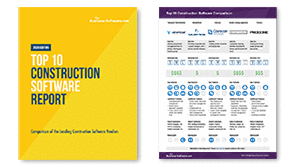 Although general software options exist that can meet the needs of most industries, businesses within the construction industry require specific solutions because of their more complex requirements.
Construction software can help contractors track many basic business requirements, as well as more specific tasks such as estimating, change orders, and blueprints. Knowing which construction platform is right for you can be difficult, which is why we've complied this review of top contenders. In our Top 10 Construction Software Vendor Report, you'll find:
Key information about the benefits and must-have elements of construction software
Highlights of each product's strengths, pricing and deployment options
A side-by-side comparison of core features available in the leading platforms
Construction management software can help you keep construction projects on time and within budget, as well as track the entire construction workflow cycle from beginning to end. Download our free report below to jump-start your search for the best construction software for your business.