Top 10 Content Management Software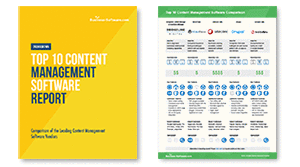 Content management systems offer tremendous benefits in helping companies to control and administer their digital files throughout their lifecycle. From generation and updating, through publishing and archiving, a content management system supports the widest range of content types.
To help you better understand your CMS software options, we've compiled a report on the Top 10 Content Management Software Systems that includes:
Detailed information about the benefits of implementing CMS
An overview of each of the leading solutions on market
Product-specific pricing, deployment and feature information
Descriptions of must-have features like user portals and SEO functionality
Companies of all industries and sizes will find CMS software beneficial to help streamline the sharing and storage of different types of content. Start your search for the perfect content management system by downloading this FREE report.