Top 10 Contract Management Software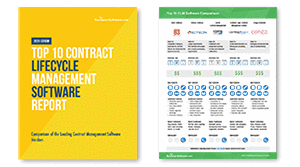 Contract lifecycle management (CLM) software makes it easier to track and manage all aspects of business contracts, from drafting and approval to execution and completion.
If you're looking for details about the top CLM services and the importance of having a solution to manage business contracts, download our Top 10 Contract Management Software comparison report. In it, we cover:
The importance of having up-to-date features such as e-signatures, advanced search functionality and permission-based tools
The leading vendors' key features and standout capabilities
How contract management software can benefit your business
Information on deployment options, pricing and select customers
Download our free report today and start your search for a new Contract Management solution.