Top 10 Defect Tracking Software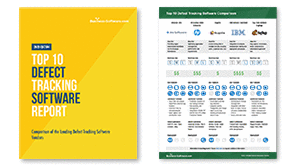 As developers know, software bugs and issues can severely reduce user satisfaction if left unresolved. Software development and quality assurance teams use defect tracking software to automate the capture, routing, collaboration and resolution of bugs and defects.
Before selecting a system to monitor bugs and issues, be sure your options provide the right defect tracking features for your needs. Our Top 10 Defect Tracking Software report provides a wealth of information that covers:
Must-have features and capabilities of today's defect tracking systems
An in-depth comparison of the top vendors in the market
Details of vendor pricing and available deployment models

Current iterations of defect tracking solutions are crucial to help define workflows, automate defect handling processes and facilitate collaboration between departments. Download this FREE report now to access our exclusive guide to defect tracking software.