Top 10 Distribution Software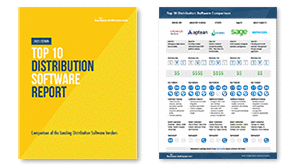 Distribution software solutions enhance all aspects of the entire transportation and delivery chain. Offered as an integrated component of many enterprise resource planning (ERP) suites or as a stand-alone application, distribution software provides full support for functions such as sourcing, routing, order processing, warehouse management, inventory monitoring and delivery tracking.
The majority of distribution systems are designed — or customizable — for specific industries, making it all the more important for you to ensure you're selecting the best software for your business needs. Use our Top 10 Distribution Software Vendor Report to learn all about:
Key platform and feature considerations
What industries and business sizes the top solutions are tailored for
Standout capabilities of the leading products
Pricing, deployment options and select customers
Start your search efforts by registering for this free Business-Software.com exclusive.