Top 10 Document Management Software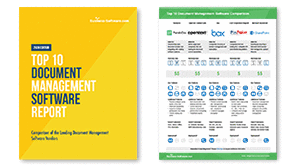 Document management software provides greater control over the lifecycle of company documents, enabling a more structured system with easier recovery and greater visibility of information oversight.
Download the Top 10 Document Management Vendor Report to learn all about the leading vendors in the industry. In our report you'll find:
The top 10 document management software vendors you should consider
Highlights of each vendor's strengths in document management
Information on key features and supplementary functions, deployment options and pricing details
How the right document management software will benefit your business

Register below to access this free report on the leading document management software vendors for enterprises and start your search for the perfect document lifecycle management solution.