Top 10 eCommerce Software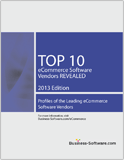 We've just made it a lot easier for you to find the best eCommerce software. Our Top 10 eCommerce Software Vendor Report reveals:
The top 10 eCommerce software vendors you should consider.
Published vendor pricing.
Highlights of each vendor's strengths.
Vendor background and contact information to get you started.
How the right eCommerce software can help you significantly increase sales, improve operational efficiency, and maintain customer satisfaction.
The online retail industry is huge – and hugely competitive. In order to most effectively operate an online retail business, companies must be able to clearly differentiate themselves from other similar sites by making the Web-based store as attractive and intuitive as possible. While this can be achieved through manual design and coding, that process can take months – or even years to complete. With eCommerce software, online retailers can rapidly create and deploy sites that are compelling, user-friendly, and easy to locate, thereby maximizing sales and revenues.
Please register below for immediate access to this report.