Top 10 Ecommerce Software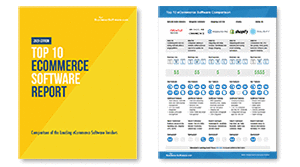 Ecommerce software helps an organization manage their virtual marketplace by offering end-to-end tools that span website creation, maintenance, product inventory, marketing, promotions, payment processing and reporting. An ecommerce solution is a necessity to those currently utilizing an online storefront, as well as those looking to expand into the online marketplace.
Looking to learn more about the leading ecommerce platforms on market? Our free Top 10 Ecommerce Software report evaluates the most popular platforms available, with an easy-to-read comparison chart for you to analyze which solution is right for your needs. We also reveal:
Details about must-have ecommerce platform features
Starting price points for all of the major ecommerce vendors
Highlights of each of the top 10 products
How the right ecommerce software can help you significantly increase sales, improve operational efficiency and maintain customer satisfaction
Register below to access this FREE report now, and simplify your search for the right ecommerce software to create or revamp your online marketplace.