Top 10 E-Invoicing Software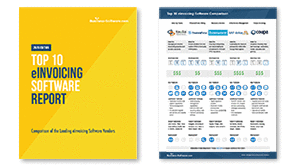 Research suggests that a paper-based invoice costs about six times more to process than an electronic invoice. In addition to cost savings, electronically invoiced items will also synchronize invoicing activities. Electronic invoicing is a form of electronic billing software that helps automate the invoicing process to ensure all supplier invoices are approved, processed and paid on time.
You have many options when choosing an e-invoicing vendor. To make the choice easier, we've created a guide to the Top 10 E-Invoicing Software Vendors.
Inside, we disclose:
Trends in e-invoicing software and popular features to look for
The leading e-invoicing products to consider
Detailed comparisons of the top solutions in an easy-to-read chart
Product price points, available deployment methods and other notable platform capabilities
Review these vendors and you'll be well on your way to finding the right e-invoicing solution for your business. Register below to download this FREE guide now.