Top 10 Electronic Medical Record Software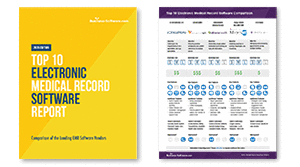 Medical practices and environments depend on competent systems to help monitor and maintain data transfers, patient records, office activities and practitioner workflows. Electronic medical record (EMR) software enables medical professionals to easily track, review and revise patient records in a single organized database.
To find the right EMR system, you first need to know what specific functions your business requires and whether the system must be integrable with your existing medical software. Use our Top 10 Electronic Medical Record Software report to help understand your options and determine your needs. Inside, you'll find:
An overview of the industry and the leading vendors
Details on the top features to seek out in an EMR platform
A side-by-side comparison of the top 10 EMR solutions in an easy-to-read chart format
Pricing information, deployment models and noteworthy functions
Make the right decision for your medical business – pick the EMR system that best fits with your needs. Register below to access this FREE report and jump-start your software search.