Top 10 Email Marketing Software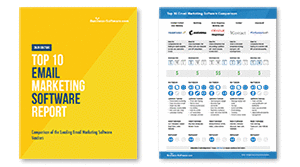 Email marketing remains one of the most effective, important tactics for engaging and obtaining customers. Email marketing software transforms an organization's marketing process by enabling more efficient campaign development, launch and tracking capabilities.
The email marketing solution that will best benefit your business depends on your company size, frequency of email campaigns and desired features. To help you determine which leading platform is right for your business, we've compiled this exclusive report on the Top 10 Email Marketing Software Vendors.
Download now to learn about:
Trending platform features within the email marketing industry
The strengths of the top email marketing software vendors
Product pricing, core functions and integrated marketing capabilities
Using email marketing software, your marketing team can accelerate campaign distribution and improve campaign planning. Register below to access this FREE report and begin your search for an email marketing tool.