Top 10 Enterprise CRM Software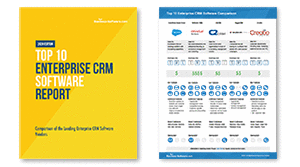 Enterprise-level companies have drastically different customer relationship management needs than smaller businesses, requiring CRM solutions tailored to their more extensive client-related communications.
With enterprise CRM, large companies can streamline client interactions across departments and increase the efficiency of customer transactions. Download this free Top 10 Enterprise CRM Software comparison report to learn more. Here's a peek at what's inside:
An overview of the industry and core features to consider in enterprise CRM
Detailed reviews of the leading CRM solutions for enterprises
Information on product pricing and deployment
Side-by-side comparison of key CRM features for larger businesses
Enterprise CRM software seamlessly coordinates and consolidates the disparate, repetitive processes and siloed data that often exist across multiple customer-facing business units. Improve your sales operations and foster quality relations with customers by selecting the right enterprise CRM solution for your needs. Register below to download the report and jump-start your search.