Top 10 E-Prescription Software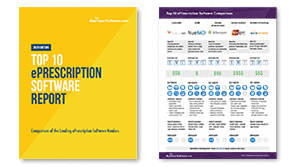 For medical practitioners, industry-specific software solutions can mean the difference between slow, ineffective processes and a successful office with streamlined medical practices. E-prescription software can help companies deliver more accurate patient and drug information, reduce mistakes and harmful drug interactions, cut down on paperwork and allow medical providers to best serve patient needs.
Before contacting e-prescription vendors, determine what your specific software needs are and what other types of medical software systems must be integrable for your business. To help you get started, we've compiled this guide to the Top 10 E-Prescription Software systems. Look inside for:
An overview of the industry and trending features
An easy-to-read comparison chart of the leading 10 products
Core capabilities, pricing and deployment models of the top solutions
Details on third-party integrations with other medical software vendors
Find the right e-prescription software to help you cultivate a more productive business environment. Download this FREE report of the leading e-prescription platforms to get started.