Top 10 Facility Maintenance Software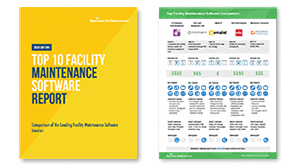 Without proper management of complex business spaces, daily operations can quickly become bogged down by equipment failure and asset maintenance discrepancies. A facility maintenance management solution will enable your business to better preserve facility equipment, easily track maintenance costs and improve the use of existing space.
To help you more easily review and compare your options, we've compiled this exclusive report on the Top 10 Facility Maintenance Software Vendors. In it you'll discover:
A handy overview of the industry and top features to consider
Side-by-side product breakdowns of the leading facility maintenance solutions
Easy-to-read snapshot of key feature availability
Ditch unhelpful websites featuring paid reviews. Download Business-Software.com's comparison chart below for detailed, high-quality reviews of the top facility maintenance solutions.