Top 10 Field Service Management Software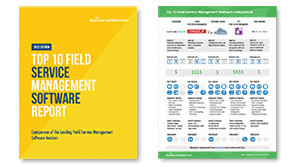 Businesses with field agents have an abundance of data and tracking details to monitor, and relying on manual processes to do so is virtually impossible. Field service management software enables service companies to record and consolidate all of their data into a single, unified platform for easy access and information sharing.
Because field service software is a significant time and monetary investment, your business should be sure that it selects the best platform for the job. Use our Top 10 Field Service Management Software Report to familiarize yourself with the industry and the leading vendors on market.
Inside, we cover:
The top 10 field service management vendors
How the top solutions stack up in terms of key functionality
Product pricing information and deployment options
Register below to download this FREE report today and discover which of the leading field service management software solutions is right for you.