Top 10 Financial Management Software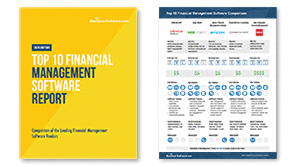 Globalization, acquisitions, diversification and other factors complicate finances and create a need for improved accuracy and transparency. Financial management software helps handle complex regulations and corporate legislation across geographical boundaries, ensuring businesses have a powerful and effective platform with which to oversee financial obligations.
Many variations and industry-tailored financial solutions exist, making it imperative that a company determine its needs and evaluate compatible platforms. Equip yourself with the right tools to make this decision by reading our guide to the Top 10 Financial Management Software Vendors.
Inside, we share:
Trending features and other important details about the industry
The top 10 financial management vendors to consider
How the leading platforms compare – showcased in an easy-to-read chart
Product price points, deployment methods and select customers
Enhance the way your company collects, processes, stores, accesses and presents financial data. Register below to access this FREE report and get started.