Top 10 Fixed Asset Management Software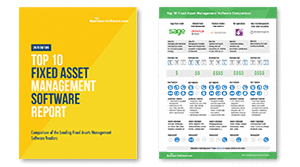 Businesses today depend on countless assets to succeed: machinery and equipment help them to operate more efficiently, real estate and company-owned vehicles allow them to serve larger regions, and hardware and software optimize their corporate processes. Yet trying to manually organize, track and maintain each asset can be a nearly impossible feat.
A fixed asset management solution will allow your business to consolidate all information pertaining to your assets, providing a single point of contact to manage your tangible assets. To learn more about the benefits of a fixed asset solution and compare top vendors, download the Top 10 Fixed Asset Management Software report.
In this free resource, you'll learn about:
Leading fixed asset management software vendors, and the strengths of each
Must-have software features specific to enterprise asset management
Pricing details, deployment methods and other important components of the top solutions
Fixed asset management software can help many different kinds of businesses better optimize their inventory and asset tracking procedures. Register below to download this free whitepaper, which will help you determine which fixed asset solution to invest in, and start improving your processes today.