Top 10 Fleet Maintenance Management Software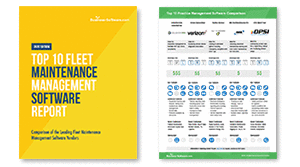 With surges in product delivery options and company-supplied transportation of goods, the modern marketplace requires greater agility from business automobile fleets. Fleet maintenance management software organizes and budgets company fleets, tracks maintenance records and detects potential areas to improve expense management.
Ensure you make the best software purchase for your company's needs by first reviewing this introductory guide to the Top 10 Fleet Maintenance Management Software Report.
Inside, we include:
Profiles of the top 10 fleet maintenance management software providers
An overview on must-have features for fleet maintenance
Side-by-side comparisons of the leading vendors' key functions
Helpful details on product price points and deployment options
To learn more about how fleet maintenance will improve your transportation procedures and compare top vendors in the space, register to download this FREE report now.