Top 10 Governance, Risk and Compliance Software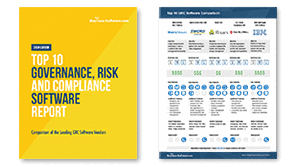 Whether in the public or private sector, virtually every business must meet industry-specific regulations, actively monitor their compliance standards and assess potential business risks. Yet overseeing these complex processes individually can be time-consuming, ineffective and a poor utilization of resources.
Governance, risk and compliance (GRC) software consolidates all activities pertaining to risk management, financial oversight, policy management and regulatory compliance in a single, cohesive system. Download our Top 10 GRC Report to learn more about leading vendors and compare:
The top 10 governance, risk and compliance management solutions
Must-have GRC features — and which are available in each of the top products
Product pricing details, deployment options and notable customers

Download this FREE report today and find the right solution to help your business gain control over disparate practices, vulnerabilities and location-based regulations.