Top 10 Help Desk Software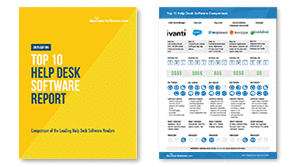 For most companies, a help desk center is the initial contact point for end users who seek assistance and support, and thus a vital component of any service strategy. Additionally, your business's customer service department must offer multi-channel support while efficiently prioritizing and addressing service tickets.
A help desk solution will enable your business to effectively manage its customer service processes in a timely manner. To help with the selection process of your help desk software, we've crafted a Top 10 Help Desk Software Report. Use our free report to:
Discover the leading help desk vendors in the industry
Learn about the must-have features you want in a help desk
Compare individual products side by side
Review pricing and deployment models
Even the slightest hiccup in support procedures can result in dissatisfied users. Ensure your users are always pleased with their service interactions by investing in a leading help desk solution. Download our FREE guide to get started.