Top 10 ID & Access Management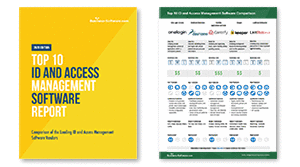 As technology continues to advance, it becomes increasingly more important that companies of all sizes and industries reinforce and strengthen their online security measures. Identity and Access Management (IAM) software provides your company with the ability to manage the digital identities for every employee, ensuring that company files, documents and critical information remain secure against all threats, both internal and external. IAM software enables IT managers to control user access to internal company databases and systems by determining different levels of access and permissions based on each employee's role responsibilities.
Choosing the IAM solution best suited for you means assessing which functionalities will best strengthen your system. Download our free Top 10 ID & Access Management Software report to learn more about:
The top 10 ID and access management software vendors
How these leading software vendors compare and the features they offer
Details on software price points, deployment options and important platform functionalities
If you'd like more information about ID and access management software, register below to download this FREE report now.