Top 10 IT Asset Management Software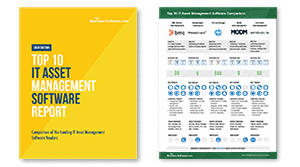 Corporate IT departments rely on intricate infrastructures to manage a variety of IT investments, from hardware and on-premise software to networks and remote assets. IT asset management (ITAM) software enables efficient and effective end-to-end tracking of technology components throughout their lifecycle.
Today's IT asset management systems not only increase control over technology assets within the organization, but serve to dramatically cut overhead costs. Start your search to cut superfluous costs with our handy guide to the Top 10 IT Asset Management Software Vendors.
Inside this guide, we reveal:
The state of the ITAM industry, plus trending features to look out for
The top 10 IT asset management software vendors you should consider
How the leading solutions stack up with a side-by-side comparison chart
Details on product price points, deployment options and other noteworthy platform functions
If you'd like more information about IT asset management software, register below to download this FREE report now.